Walk for Peacefulness, Contemplation & Connecting with Nature
Taking walks and spending time outdoors enjoying nature can be peaceful and calming. It's a great way to get fresh air, find some quiet time, and clear your head! Walking or just relaxing in forests and other natural areas can also be inspiring and will help you recharge, lift your spirits, and feel rejuvenated. Connecting with nature can give you a sense of awe and connection to something larger than yourself. Enjoying the beauty of trees and wildlife and natural places will help you to feel happier and have a greater sense of well-being.
There's something magical that happens in our bodies when we're outside. It's part of our DNA and it's triggered by our senses:
the sound of leaves rustling in the trees, and birds and crickets singing;
the sight of a butterfly floating across our path, water flowing across rocks and down a stream, and waves breaking along the shoreline;
the feeling of the sun warming our skin and wind blowing through our hair; and
the fragrance from a flower and scent of a spring rain.
Walking outdoors also is a great time for thinking. Taking walks increases your creativity and ability to solve problems. It also improves your memory and has many health benefits.
RI Walks can help you find places to walk and relax outdoors.
If taking walks and spending time outdoors in nature is new to you, make it easy and stress free! Make it fun and develop a new habit that fits your lifestyle!
Some people find a favorite trail to walk or special place to sit along a trail to relax. Other people enjoy walking different trails and discovering new places to enjoy nature.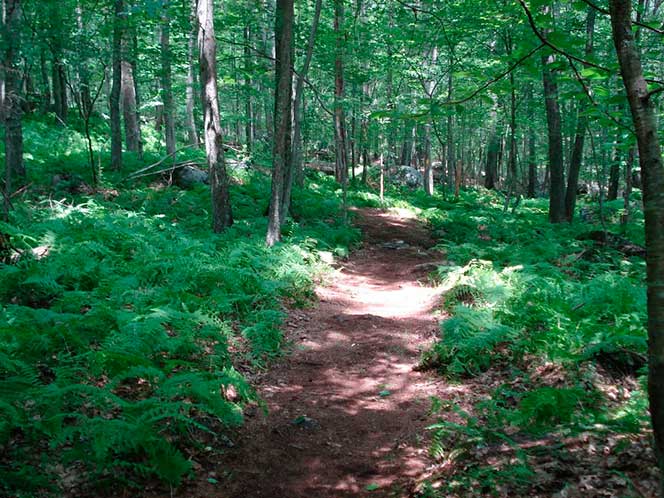 Fry Pond Preserve. Photo Credit: Mike Parker, West Greenwich Land Trust