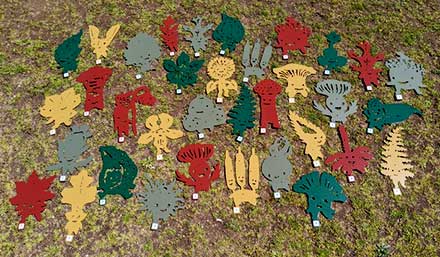 Click on the image start tracking which creatures you've found!
Take the RIWalks Challenge!
Explore land trust trails around Rhode Island and search for creatures.
There are 34 different nature inspired creatures along nature trails that traverse the special places that land trusts are protecting.
How many can you find? Can you find all 34?
These creatures can be difficult to find, but when you see one, you'll know that you've found a very special place!
Snap a selfie or picture of each creature you find and share it on Instagram and Facebook using #RIWalksChallenge
Many people find that being outside in natural places, immersed in fresh air and surrounded by other living things is calming, healing and inspiring. These places renew us, nurture our spirits and can even feel magical.
Throughout the ages and around the world, the wonder of nature and outdoors has resonated with people. Many cultures have stories, legends and myths about the spirits and powers that exist in other living things and the mystical creatures in the natural world.
Artist Greg Rebis, at The Steel Yard, designed 34 nature inspired creatures that were turned into these cut steel sculptures. These unique creatures can be found along land trust trails. See if you can find them?