About RI Walks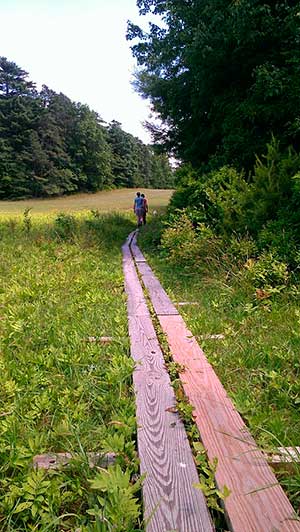 Image Credit: Mike Parker, West Greenwich Land Trust
RI Walks is a program coordinated by the Rhode Island Land Trust Council. RI Walks encourages Rhode Island residents and visitors to get outdoors, take walks, spend time in nature and enjoy the special places that land trusts, municipalities and the state are conserving.
Land trusts are non-profit organizations that Rhode Island residents have formed to conserve the lands and waters ... forests, farms, natural areas, scenic landscapes and other special places ... in our communities. Rhode Island Land Trust Council is the statewide coalition of land trusts. You can learn more about the Rhode Island Land Trust Council on their website.
The properties that land trusts conserve are community assets and many are open to the public. RI Walks introduces more Rhode Islanders to land trusts and their trails. RI Walks also gives health care providers a resource for when they are advising their patients to walk and spend time in nature for their health.
We believe that when people join RI Walks, unplug from their screens, go outdoors, take walks and reconnect with nature, they will be happier and healthier. As more people join RI Walks, the health of our communities will improve.

to support RI Walks' program and this website.
There are over 45 land trusts in Rhode Island. Most are entirely run by volunteers. We encourage you to learn about your local land trusts, enjoy properties they are conserving and walk the trails on those properties.
You can help to conserve and care for the special places in your community:
RI Walks is connected with the ExploreRI.org website which has extensive information about trails that land trusts, municipalities, the state and other organizations maintain around the state. Visit the ExploreRI website to learn more.
RI Walks began as Rhode Island's ParkRx program and is intended to be a resource for Rhode Island's health care providers. It was initially modeled after ParkRx and "prescription park" style programs around the nation. We want to make it easy for health care providers to encourage their patients to spend time outdoors in nature and take walks as part of their health care treatment plans.
Initial funding for the RI ParkRX pilot project was provided by Health Bodies, Healthy Minds Washington County a Health Equity Zone coordinated by South County Health. Additional funding for RI Walks was provided by a generous grant from the van Beuren Charitable Foundation and by generous grants from the Hazard Family Foundation.